Product development requires careful selection of strategies, to avoid failure. Foodiesys Consulting through its several years of experience, we not only guide you in product development but also make sure your product gets success in the market.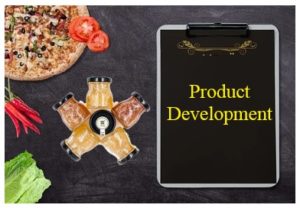 Product development is the heart & soul of the food industry, from conceptualization to design & from planning to production, we help our customers come up with complete product range and participate in entire product development life cycle.
New Product Development is important as it provides new value addition to the customer as well as producers. The New Product Development process include — idea generation, idea screening, concept development and testing, building a market strategy, product development, market testing, and market commercialization.
With creativity and several years of experience, we offer fresh & innovative ideas food product development.
We provide following solutions:

Food product formula and recipes


Creative concept and prototype development


Ingredients application and substitution


Product and process scale up


Food product formula and recipes


Formulation for shelf life improvement


Use of preservatives


Extending Shelf Life With Natural Preservatives


Extending shelf life via packaging


Shelf life improvement by process and hygiene control
Feel free to contact us for any Food Industry Solutions & We will be happy to assist you.
Contact Us:
Email :         foodiesys@gmail.com
Phone No.:  +91 20 6652 1885
Cell No.   :   +91-9970010853