Food Industry Audits such as Food safety and quality audits are used worldwide in the food industry for various reasons such as to evaluate management systems, obtain certifications to certain food safety and quality standards, assess the condition of premises and products, confirm legal compliance, and so on.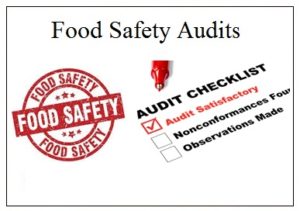 In order to comply with the Global Food Safety Initiative Audit Schemes, food manufacturing facilities required to conduct Internal Audits of their Foods Safety Management Systems.
Meeting these regulatory requirements involves developing a strong internal audit program that utilizes internal resources and trained auditors to perform internal audits. Lack of a properly designed or implemented internal audit program is one of the most common non-conformances observed in Global Food Safety Audits.
Below are Some of the Key Elements involved in Food Industry Audits:
1. Introduction to various Food Safety Standards like HACCP , ISO 22000, FSSC 22000 , BRC etc.
2. Internal Auditing process & elements of Internal Audits
3. Purpose of Internal Audit
4. Key Elements of Effective Internal Audit
a) How to plan the internal audit?
b) How to prepare for the internal audit?
c) Behavioral skills of effective internal auditor
d) How should be the process of Observation?
e) How to prepare Stategies for internal audit?
f) How to effectively communicate during audit?
g) How to verify the documents
h) How to collect objective evidences?
i) How to write the reports of internal audit?
5. Dos and Donts for Auditor and Auditee during Audit.
6. Ten Attributes of Effective Internal audit
Feel free to contact us for any Food Industry Audits requirement & we will be happy to assist you.
Contact Us:
Email :         foodiesys@gmail.com
Phone No.:  +91 20 6652 1885
Cell No.   :   +91-9970010853